FINA World Swimming Championship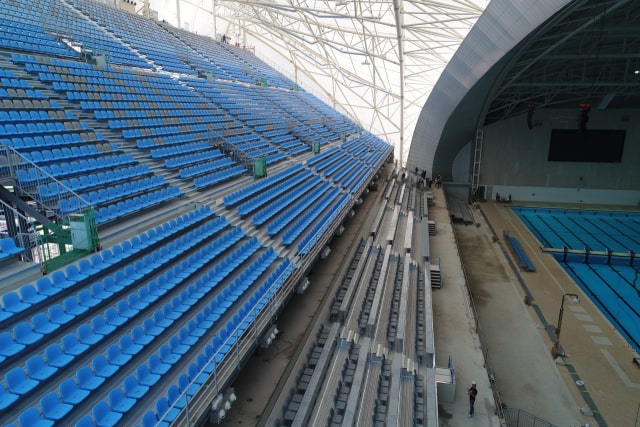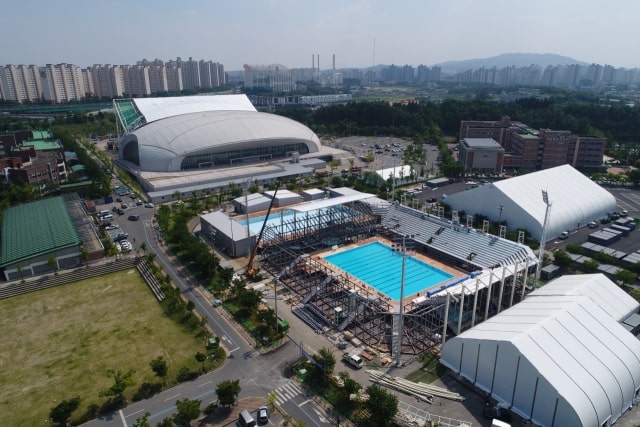 Daegu-based company comes into the spotlight by taking the opportunity to supply the seating systems for FINA World Swimming Championships to be held in Gwangju from 12-28th July.
Unitech System, located in Daegu's Dalseong 2nd Industrial zone, is going to install the temporary seating system at the main stadium, which is Nambu University municipal swimming pool and the water polo stadium which is located in soccer field beside of the swimming pool.
The capacity of the temporary seating system in the main stadium is 6,480 seats and has been installing 99% now. After the installation is complete, the main stadium seating capacity is increased from the original capacity 4,168 seats to 10,648 seats. Also, the water polo pool and the temporary seating system which has 4,340 seats capacity were installed completely on 19th May. These temporary seating systems will be dismantled after FINA World Swimming Championship and the stadium will be restored to the original appreance.
Unitech System is the number one leading company in the temporary seating system filed in domestic market. Unitech system also had supplied their systems to the main stadium, speed skating stadium and figure skating stadium for Winter Olympic games in Pyeongchang last year. The advantage of Unitech's seating system is to save its huge construction cost and maintenance budget reduction.
The installation of a permanent facility not only increases construction costs but also makes it difficult for maintenance afterwards. On the other hand, in case of the temporary seating system, without to construct the new stadium separately and any extension a building, can obtain the seating capacity. Thus, this system has been being used for the big events since 2010s.
"Many clients will look for Unitech's temporary seating system for various big events in the future." and "We, Unitech is going to give our best to export the systems since starting to win the contract of FIFA Worldcup Al Rayyan stadium which is constructing in Doha." Unitech System CEO, Mr James Ham said.